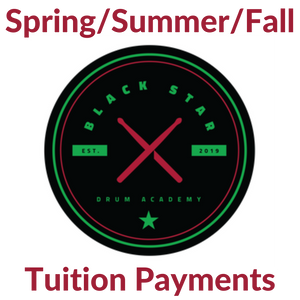 Black Star Drum Academy Registration & Tuition
Regular price $250.00 Sale
Black Star Drum Academy, a training program for those who aspire to join the Black Star Drum Line, is now accepting students of all skill levels for our in-person classes held at the Madison Youth Arts Center.
Please also complete this Google Form to register. 
Founded in 2019 by Director, Joey B. Banks, the Academy's focus is to create a diverse, inclusive, and supportive educational environment for any Wisconsin-based youth (8-18 years old) who wish to participate in the "percussive arts".
Black Star Drum Academy curriculum includes:
Marching Drum Techniques
Drum Kit Ensemble & Individual Performance
Music Theory - Rhythm Notation
Team Building & Leadership
Scholastic Achievement
Career & Personal Development
Community Service
2024 Training Sessions:
(for beginners and current drum line members)
January 8 - March 25 (12 Classes)
Mondays 5-8 p.m. at the Madison Youth Arts Center, Studio 4D
Tuition $250.00
BSDL SPRING TRAINING

(for current drum line members and accepted offers)
April 1 - June 17 (12 Classes)
Mondays 5-8 p.m. at the Madison Youth Arts Center, Studio 4D
Tuition $250.00
BSDL PERFORMANCE SEASON

(Black Star Drum Line Members)
June 24 - October 26 (18 Classes plus performances)
Mondays 5-8 p.m. at the Madison Youth Arts Center, Studio 4D
Tuition $300.00