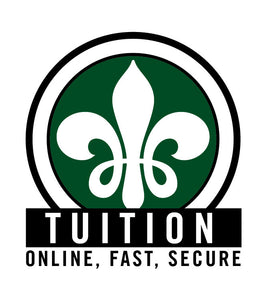 Madison Scouts Member Tuition
PAYMENT IS DESIGNATED IN $1, $10, or $100 INCREMENTS VIA THE DROP DOWN OPTION BOX
First, be sure to include the MEMBER NAME for whom we should apply this tuition payment.
Add the product into your shopping cart and then set the QUANTITY to the desired payment amount. Select UPDATE and your tuition payment will then be reflected in the SUBTOTAL.


Your tuition will cover your housing and food for spring training rehearsals and the summer tour. There will be some designated meals "on your own" including free days.

Tuition also covers the education you will receive from our world-class staff. You will gain knowledge of your specific instrument or section, a performance mentality, and invaluable life skills. The experience of marching with the Madison Scouts will change the rest of your life; it is truly priceless.

Scholarships and fundraising projects may impact the balance of your tuition. You will receive email receipts for every payment, credit and scholarship. Contact director@madisonscouts.org for additional detail.