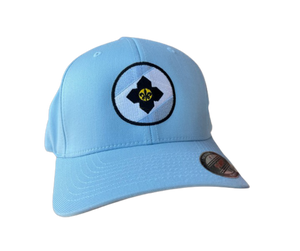 Madison Connect Cap
Regular price $25.00 Sale
The Madison Scouts are proud to call Madison their home, and the connection between the Scouts and the Madison flag run deep.
In the early years, Madison did not have a flag that the corps could fly for parades and performances. So members Rick and Dennis Stone, with the help of their color guard instructor John Price, designed their own. In 1962, Madison approved and adopted their design.
The Madison, Wisconsin, flag consists of a light blue background - Lake Mendota (watch out for Pirates!) and Lake Monona - bisected by a white band symbolizing the isthmus between them. In the center of the flag is a black cross that symbolizes the four lakes (Mendota, Monona, Wingra and Waubesa) as well as the State Capitol. The gold circle symbolizes the dome of the State Capitol.
You can learn more about the flag's history here. 
Our Madison Connect Cap pays homage to Madison's flag and our history. The Flexifit cap is a classic due to its athletic shaping, curved visor and silver underside. 63% Polyester / 34% Cotton / 3% Spandex, this wool-like texture fitted cap is structured with buckram backing for maximum stretch and comfort.
Flexfit caps are made by weaving polyurethane spandex into its sweatband for a comfortable stretch and fit. It is also incorporated throughout the crown of the Flexit cap for added elasticity.
Two sizes:
S/M (6 3/4" – 7 1/4")

L/XL (7 1/8" – 7 5/8")